08 Sep

One of Paris' Secrets – in the 13th

Wandered through the 13th arrondissement yesterday. Overall it feels like a good, working class neighborhood that holds Paris' newspaper building (Le Monde), their ultra-modern Bibliothèque Nationale (national library), and Chinatown, which I'll return to see next week. The streets widen, becoming avenues divided by the Metro rail tracks. When you come this far out from central Paris, the old historic district, the 1960s high-rise buildings tend to start popping through the skyline. (According to Wikipeadia, in Paris a building's height is limited according to the width of the streets it borders, making it difficult to get an approval to build a taller.)

This somewhat stark neighborhood is not particularly interesting except for a small area called La Butte aux Cailles. This cozy little village-style oasis, with its narrow cobblestone streets, has a row of quirky restaurants, cafes and shops. As you'd expect, La Butte aux Cailles has become a draw for artists and hipsters.
One shop worth mentioning, Les Abeilles, Miels & Cires ("The Bees – Honey & Wax"), carries everything you can imagine relating to bees. As you walk by you need to be careful as the place is crawling with real honey bees, inside the store as well as outside. Further down the street is a charming tea salon where women gather to knit and chat over cups of tea.
Another feature of this little hamlet is a short pedestrian-only street named Villa Daviel which is home to a row of quaint single-family cottages. These are juxtaposed against the rudeness of the somewhat bad, ultra-modern buildings they butt up against.
But the lure of this neighborhood for me were the rumored yearly-commissioned wall murals that abound in this little village. See below: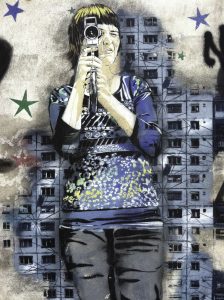 I hope you'll visit this area if you're in Paris. Of course, all these images may be long-gone and replaced by others.
I'll be back to this area next week. There's a lot more to see.