30 Jun

DAY FIVE

Today was a very retrospective day. It finally hit me that this dream had actually come true. If for some reason I had to leave tomorrow, this experience will have already exceeded my expectations.

I was standing on the jogging path in Central Park, looking over the lake at the skyline of the East Side. In the background a violinist was playing and I could hear children laughing in the playground. A perfect setting to start the tears flowing, wouldn't you say?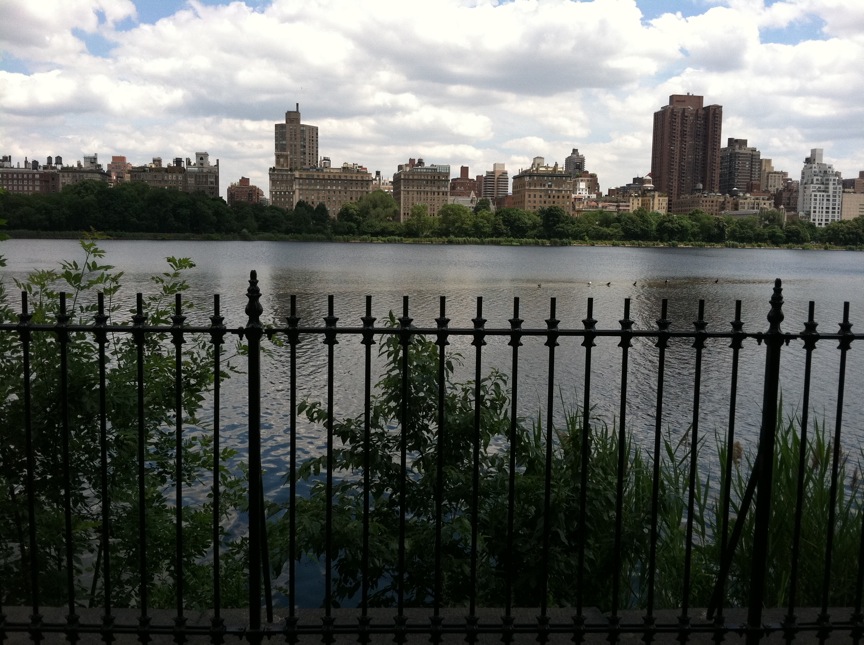 I took all afternoon in this glorious park. At over 800 acres, its size is overwhelming. It has wide open spaces for sunbathers and frisbee players, granite rocks for kids to play on, huge reservoir for ducks and for boating. I passed people playing soccer and volleyball. Hanes was having a company outing. Jazz musicians, a violinist, even a pianist has rolled in his piano out to fill the air with music.
I started my day doing paperwork, as I do many mornings. I decided today to just hop on the first train that came my way, which I did – the C train. I rode until I hit 103 Street, walked out of the subway and right in front of me was the west side of Central Park. I had lucked out.
I grabbed my first New York street dog, some Cheetos and a water from a street vendor nearby. Wasn't much of a spread, but I was bound and determined to have a picnic in Central Park.
I won't waste any more time with words. I'll just let the brass plates from the park benches tell the rest of the story about my day in Central Park. Please double click each photo so you can read them. Each of their stories is wonderful.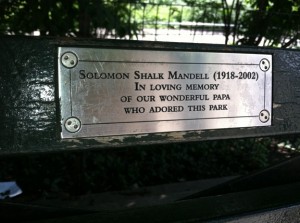 "Solomon Shale Mandell (1918-2002) In loving memory of our Papa who loved this park."
"The Girls: Dakota, Madison and Annabel. Forever will I hold the memories of our life together close to my heart. Because of you, I am. Juliet 2009"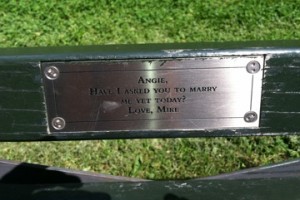 "Angie, have I asked you to marry me yet today? Love, Mike"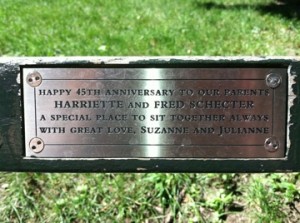 "Happy 45th Anniversary to our parents, Harriette and Fred Schecter. A special place to sit together always. With great love, Suzanne and Julianne"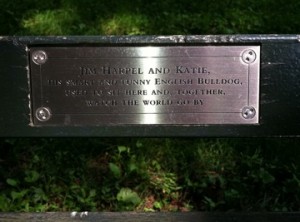 "Jim Harpel and Katie, his smart and funny English bulldog, used to sit here together and watch the world go by."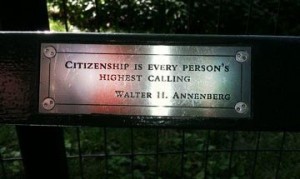 "Citizenship is every person's highest calling. Walter H. Annenberg"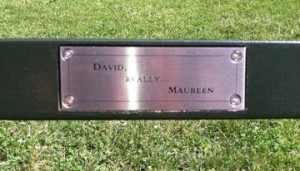 "David, Really. . . Maureen" (So what do you imagine the story behind this one is?)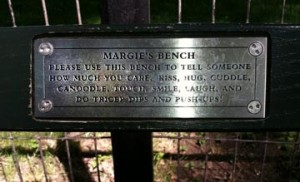 "Margie's Bench: Please use this bench to tell someone how much you care, kiss, hug, cuddle, canoodle, touch, smile, laugh, and do tricep dips and push-ups!"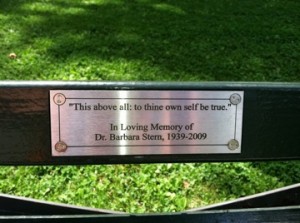 "This above all: to thine own self be true." In Loving Memory of Dr. Barbara Stern (1939-2009)"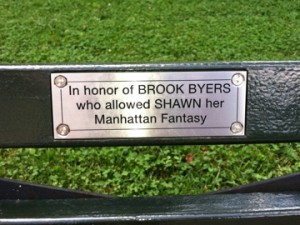 "In honor of Brook Byers who allowed Shawn her Manhattan Fantasy."
I wish I knew Shawn. I have a feeling that her Manhattan fantasy was just as magic as mine.
Good night, folks!