11 Jan

Panama, Five Decades Later

I remember it like it was yesterday. I was sitting in the seat directly behind my Dad on the left side of the plane, the engines roaring so loud I could barely hear what he was saying to me. He was piloting a C-124 from El Salvador to Panama City. In my hand was a small paper bag. I often got sick while flying and on this day I was particularly nauseous.
It was 1959 or 60 and our family lived in San Salvador, the capital of the smallest country in Central America. My Dad was a Lieutenant Colonel in the US Air Force, sent there to bolster diplomatic relations with our neighboring countries. Fidel Castro was in power in Cuba and his close ties with the Soviet Union worried American leaders. The Soviets had nuclear weapons. Cuba was geographically very close to the US…clearly a threat.
According to my childhood memories, my father and I went to Panama often. My hands and feet were raw with eczema so he took me there for cortisone shots. Because of the canal, Panama was the 'big city' and they had the biggest American base with good medical care and shopping.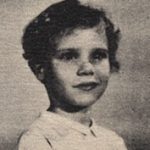 Returning to Central America and reliving my childhood memories has always been high on my bucket list. That dream is finally coming true, over five decades later. To piece together my memories, I have sorted through old photos, yearbooks, and letters plus my mother has filled in a lot of the blanks. I've got so much to share!
My sister and I leave Wednesday and will spend ten days in three major regions of the country. I will post photos daily on Facebook.  If you'd like to follow along, click the LIKE button at the top of the Facebook page and sign up for email reminders.
So, yeah, I'm sprucing up my dancing shoes and embarking on another of my wild dances. Come on, go with me!