22 Jul

Taping of The View

You know, I don't watch much TV at all. Oh, I might turn on House or Law & Order as I crawl into bed at night, but that's about it.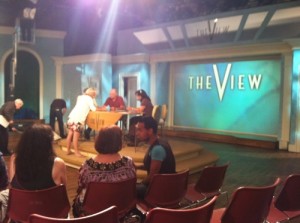 One morning back in January or February, the The View was playing in the background as I dressed. It caught my attention so I went directly to their website for tickets – thought it might be interesting to be in an audience while on my trip to NY.
This past Tuesday I had the pleasure of being in the audience. All co-hosts were there – yes, I got to see Barbara Walters and Whoopi Goldberg. Their featured guest was Wendy Williams, who was a hoot (see full episode). I was struck at how friendly and gracious they all were when they came and spoke to the audience. Of course, Whoopi had her usual edge, but that's what makes her so fun.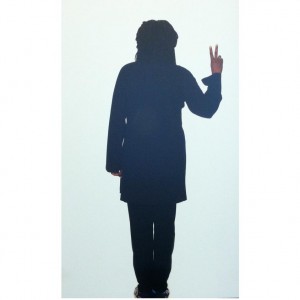 It was quite surprising to see the set, the studio and the surroundings in which these famous actresses work. They were stark. The table and chairs they sit in look like something you'd get at IKEA. Not expensive, not showy, not something you'd expect to see for such famous people. I found a weird comfort in knowing that these five women go to work just like the rest of us, in normal surroundings, with normal people, with normal deadlines. They just make a helluva lot more money doing it.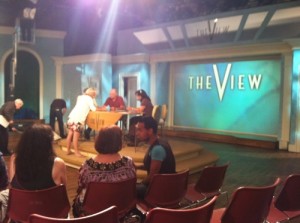 A little background: We had to report to the studio, which is a somewhat drab building on West 66th Street. No signage, no identification that it is a TV studio. We had to be there at 9:30 sharp. I was told upon arriving that, even though I had registered and been confirmed, that if I'd not received tickets in the mail,  there was no confirmed spot for me. (I read the fine print and yes, that's what it said.) But the young assistant producer gave me a numbered 'waiting list' ticket and encouraged me to return at 11:45 when stand-bys would be called. I left in a huff but did return, and yes, got in with no problem. Not only did I get in but after the taping, a group of us were asked to come back on Thursday for an additional taping.
Yesterday my friend and I returned for the second taping. Although Barbara Walters was not on the set, the featured guests, Cloris Leachman and The Monkees (see segment), made up for it. This taping was much more interactive than the first one. We were called up on stage to surround The Monkees as they sang a few songs, "Hey, hey, we're The Monkees!" Yes, they looked very old, but they sounded soooooo good!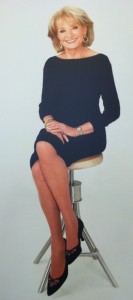 From what I understand, most studio audiences are prepped by either a comedian or an employee of the studio. They warm you up, tell you how and when to clap, when to ooooh and aaaah, and how to perform other actions needed to tape a show. They also tell you over and over and over again to turnoff your cell phones. Apparently the phone signal interferes with the wireless mikes. Reasonable request, so of course, I turned mine off. Or at least I thought I did.
Nope. Right in the middle of the taping, all was very quiet, I hear the dreaded chirping of crickets, my ring tone. Every single eye in the studio was on me. I grabbed my purse, punched the button, punched it again and again and the chirping continued. And folks, it was loud. I finally handed my  iPhone to the young girl next to me and said, "Do you know how to turn this thing off?" Of course she did, and on we went. This will go down as The Most Embarrassing Moment of My Life.
I was asked back for the second taping so I guess they weren't too mad. But I made sure my phone was off a good two hours before the taping began.