10 Jul

DAY FIFTEEN

Dating has gone to the dogs.
I witnessed the smoothest move ever today. This single guy in Greenwich Village organized a MeetUp group of Chihuahua owners this morning at Washington Square. This stud had no less than twenty women show up ~ just in the 10 minutes I was standing there.
For those of you who are not familiar with MeetUp, it's a website where you organize events for people with similar interests. You plan events such as dinners, movie outings, bowling, and the such. It's not uncommon for singles to meet this way. But I've never heard of dog play dates. Very clever . . . gotta give the guy credit for his creativity.
My friend, Annie, was in town from Atlanta. We enjoyed a pianist in Washington Square this morning, walked through a Northern African street fair where we got henna tattoos and witnessed people smoke from Hookah pipes.
We enjoyed lunch at my favorite spot (Café Habana in the East Village), took in SoHo, Little Italy and Chinatown . . . then ended our day with a walk on the High Line. A lot for one day.
In Little Italy they apparently close off the streets in the summertime to encourage foot traffic.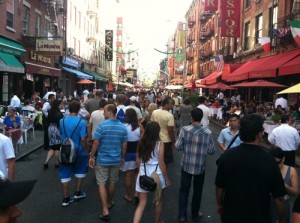 Mulberry Street is lined with 40+ Italian restaurants and bakeries on both sides. As you can see from the photo, it's a very popular place to be.
I had to chuckle as we walked from Little Italy to Chinatown. Street 'wares' transitioned  from statues of the Blessed Virgin Mary to Chanel sunglasses and Gucci bags.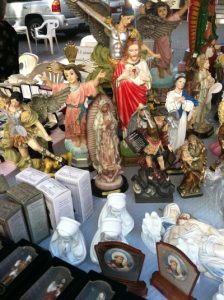 Just as we laughed about their trinkets, I'm sure they got quite a chuckle out of us two middle-aged gals sportin' big old fancy tattoos on our legs.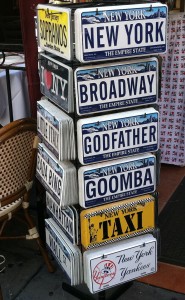 """""""""""
The real find today was a store in the SoHo called Ethnix. If you love African and Tribal Arts, you MUST see this man's collection!