29 Jun

DAY FOUR

I want to name today's post "Stupid Is as Stupid Does." Just like Forrest Gump, I started walking toward my subway station and kept walking until I hit the East River. Then I turned around and walked until I hit the other side, the Hudson River. In other words, I walked the entire width of Manhattan, twice. Stupid. I'm sure I'll be laid up in some hospital, in traction, by tomorrow.

I just couldn't stop. Looks like I walked a total of 60+ blocks today. I left the West Village, walked to the Union Square Park, then to Gramercy Park – had lunch at Pete's Tavern (more later) – then walked to the East River, up the East Side to the NYU Hospital complex. I then turned back the opposite way until I hit the Hudson River. Came back, got on the subway and came home.

I saw so much today, I'll just do photos and captions. You can double-click on these to enlarge them:

This may be an inside joke, but who said New Yorkers only wear black?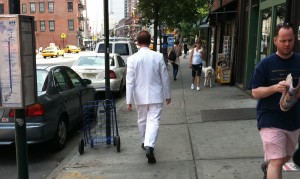 A smoking building at Union Square. Read below.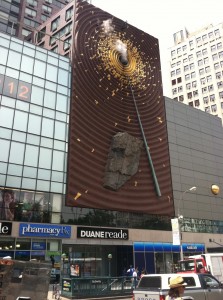 It's an art installation called "Metronome" by Kristin Jones and Andrew Ginzel, chosen in a national competition.

The hole in the wall is a five-foot-wide circle called "the Infinity." It is designed to emit steam as a symbol of the city's internal energy and of the earth itself…

The Kong-size hand-"the Relic"-is an enlarged replica of the right hand of the equestrian statue of George Washington in Union Square Park…

The gold leaf applied around "the Infinity" is "the Source." It symbolizes the ultimate source of energy. The black-and-gold billiard ball-shaped protrusion is a rotating sphere which will keep us up to date on the phases of the moon…

The needle in the eye of God is called "the Focus"; it's a half-inch in diameter at its top, but widens to 18 inches at its base 67 feet below. It will produce a low tone at noon and midnight. The 15 windows will display how many past- and pre-midnight hours exist, and are collectively entitled "the Passage."

Pete's Tavern in Gramercy Park:

Was hungry and just happened on this little tavern, which has been there since 1864. Then learned that this is where O'Henry wrote Gift of the Magi…well, most likely he sat here one night, had too much to drink, then went home and wrote it.

Gramercy Park was a beautiful little hamlet stuck in the middle of the East Side. There's a very lush park in the center of the neighborhood, but I found it odd that no one was in the park. Apparently the park is owned cooperatively by the surrounding 60 lot owners and is governed by a board of five lifetime trustees. Only way in is by key, with a different key out. The locks and keys are changed yearly to thwart any key duplication.

"It's a place where people live who have no home."

I thought this was a particularly beautiful old building. When I asked the guard what they were, he very carefully crafted his words. Then I understood why. A brand new, shiny new office complex sat next door and he didn't want to hamper sales, I guess. Across the street sits a sister building, just as grand. It houses foster children.

The new complex, in the same block, is the Alexandria Center for Life Science, a state-of-the-art science park. I loved their displays as you enter the complex. See below:

These were large photographs of scientists from New York who've made a significant contribution to science. Around the corner were large photos of very select high school students who had been chosen as the next generation of scientific talent in New York City.

One of these high school student's winning project was: Cellulosic biofuels like ethyl levulinate . . . I stopped reading there.

So much more, but I won't bore you. I'll end with this one. I knew I was getting closer into the tourist district. Bobble-head Obamas and statue of liberty figurines . . . in all shapes and sizes.

It was a long hot day. My legs are killing me. But I'm loving every bit of this city!