02 Dec

My Shanghai Pad

Ok, I must admit. Today took everything I had in me to follow through with a big fat statement I'd made. When in a new city, I like to live like the locals live, in an apartment or in a home. Shanghai was no exception.

My friend Casey had asked if we could stay in a hotel while she was here. Seems very few of the Chinese have bathtubs in their homes and she was really loving the idea of soaking in a big ol' tub, so I agreed. Once she left I'd move to an Airbnb apartment.

Today was move-in day and I was quite uncomfortable with the idea. Not only was I nervous about not having a friend or desk clerk to rely on, I was also on edge about the instructions my host had sent. "At the fruit stand go through this alley, turn right, then left, door 12, the lock box, the black door, the hot water switch…" So, before checking out of the comfort of my hotel, I took off looking for it.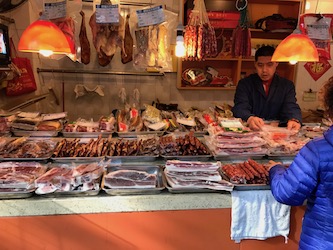 I was only a block or so away when I had to pull out my map. A nice young Aussie man saw the panic on my face and stopped to offer his help. God, that English never sounded so good. After he got me on my way, I passed a kindergarten full of kids out on the cement playground, their little voices bringing me a moment of relief. A few steps further was a police precinct. You can only imagine where my mind took me then.
As I neared the fruit stand and caught sight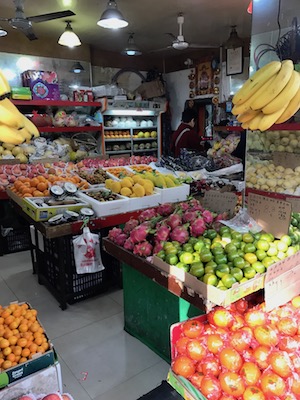 of the street number on the wall and the alley I was to
enter, I got my first glimpse at where I'd booked to spend my next four days. Honestly, my first thought was, "I hope the hotel has a room available. No way am I going in there!"
Another voice told me to suck it up, quit being an entitled snob, and keep walking. By this point, every eye in the fruit stand was on me. Those women weren't real sure who I was nor what business I had in their neighborhood.
I wove my way through the alleyways, found the door with the key box, wedged myself up some skinny little steps and found my way to the apartment. I quickly locked the door behind me and took a sigh of  relief. The place was tiny, but quite cute. Click here for an inside tour.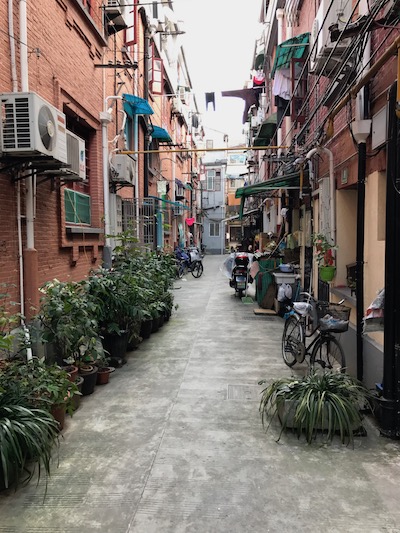 So, as I listen to the cat meow outside my window, and the lady a couple of houses down fuss at either her husband or kids, I am getting a real sense of how the folks in this part
of Shanghai live. The only parts I'd seen the last few days were the outsides, blocks and blocks of small shops,schools, fruit and meat stands. Never had I imagined that behind those facades stood entire neighborhoods, like mazes, with tiny lanes, and full of 2-3-story apartments. I have a nice large window in the back of my apartment that looks right into four or five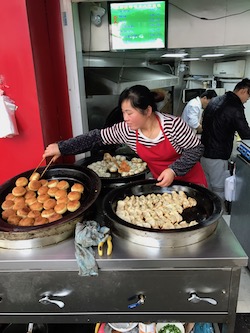 other apartments. Yes, Mrs. Kravitz has checked them out already and yes, several have laundry hanging from their windows. One has really pretty furniture and another has their Christmas decor up already.
I wouldn't give anything for having experienced this.