18 Jun

My Dad

One of the gifts I received while working with writing tutor Jane Gassner came after she pushed me over and over again to get my 87-year-old mother to share her story. Jane insisted I understand how my mother's upbringing, her marriage to my father and the times in which they lived impacted my own life's story. It was important in writing my memoir, she claimed.

Oh, my mother had shared a few surface level stories, the ones she could control and wrap up with pretty bows. As was characteristic of her generation, her stories were devoid of feelings, of fears and dreams. But when I asked her, "How did you and Daddy meet?" I caught her off guard and ultimately, got a glimpse of my father in his younger years.

After finishing high school my mother landed a job at Brookley Air Force Base in Mobile, Alabama where her duties included typing up travel orders for the officers. As she tells it, my dad, an officer and an eligible bachelor, walked into the office where she and two other young girls worked. "We were goo-goo over him but he didn't pay much attention to us," she admitted to me. He was 15 years older, an officer and all business, of course.

A few weeks later there was a party for one of the retiring colonels. All his co-workers were in attendance, dancing to juke box music and enjoying a picnic when the colonel stepped onto the stage and tapped his finger on the microphone. According to my mother this colonel wasn't one of the stuffy ones but a real jokester, instead. He lit up the crowd with the funny stories he'd racked up during his military career. He picked on this person and on that one, then announced that there was one unmarried officer in the crowd. I'm sure he pointed out that this one bachelor was getting up in years, being that he was in his mid-30s. "My secretary says that there are three pretty—and very eligible—young ladies in the audience who'd like to meet you! John, come on up here and you, too, ladies!" he belted out. Of course, as my mother tells it, my father's face turned beet red but he, the military man that he was, obeyed his superior. All three girls jumped at the chance to join him on the stage, my mother clarifying it with, "You know, we were all at that age where we were looking for a husband." She was all but twenty at the time.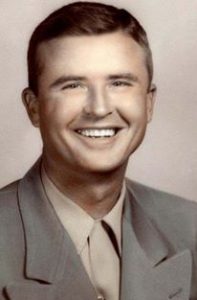 My dad was cordial and chatted with the girls but didn't do much to move the needle forward. He then took his seat at the front table next to Dot, the colonel's secretary. As the girls stepped off the stage, Dot grabbed my mother's arm and swung her around and down into the empty seat next my Dad. Apparently my dad wasn't taking the bait so Dot suggested he offer my mother a ride home. Off they went in his big ol' Mercury and of course, the rest is history. 
Oh, I so loved my Dad. He was a man of very few words but I knew very clearly how much he loved me. If I acted out of line his simple, "My young lady disappointed me," hurt much worse than the flyswatter spankings I got from my mother. I remember the time I brought home an F in calculus. "You must not like college," he said calmly. "With grades like this you apparently don't want to go back." I retook that class and made an A. I think back on the hours we spent sitting in his boat, waiting for a fish to bite—hardly a word between us. He taught me how to swing a golf club and how to change a tire on my car, and of course, how to clean the fish we'd bring home.
The last time I saw my Dad was in summer of 1982 when he and my mother came to Atlanta to see the new condo I'd just bought. On the wall of my bedroom were two letters I'd framed and hung side by side. The first frame held an old, yellowing piece of onion skin and typed on it were his words describing what it felt like to be a new father. He described his new baby girl as the "prettiest thing on this earth." The friend who'd received that letter kept it, then returned it to my father just prior to my 21st birthday. The second letter was a letter my Dad had handwritten to me on yellow legal paper, telling me how proud he was of me at age 21.
Each time I think of my Dad, I thank the good Lord that he got to see how much he–and his few words–meant to me.
– Father's Day, 2017